AN UPDATE FOR OUR PATIENTS REGARDING COVID-19 (CORONAVIRUS)
As our community is working to decrease the spread of COVID-19 our office is closely monitoring and following recommended guidelines from the CDC, the ADA (American Dental Association) and the NC Board of Dental Examiners.
Shaunn's Dental Lab remains OPEN FOR BUSINESS. Please know that we always have and will continue to employ the most up to date infection control procedures within our lab. We will continue to monitor the situation and update you if our hours of operation change.
Offering Dental Lab Services in the Charlotte Area for More Than 35 Years
Shaunn's Dental Lab has been a leading provider of dental restorations and lab services for dentists in Charlotte and surrounding areas for over 35 years. As a family-owned and operated business, Shaunn's is committed to offering outstanding customer service to every dental professional we serve. The entire staff strives for precision and exactness backed by years of dedicated research and experience. This has earned us a reputation for excellence, one we work hard to protect among dentists throughout Charlotte and beyond.
Shaunn's Dental Lab provides superior dental restorations and dental laboratory services that improve the quality of life for dental patients and satisfy clinical restorative needs for dental patients.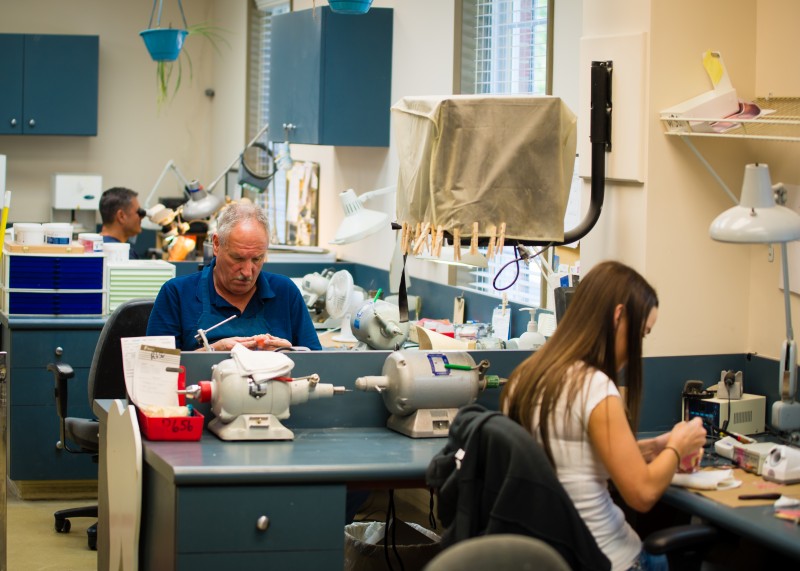 Quality Products & Superior Service
Shaunn's Dental Lab offers restorative dental products and services to Dentists in Charlotte, Harrisburg, Concord, Huntersville, Cornelius, Davidson, Mooresville, Fort Mill, Pineville, Matthews, Mint Hill and beyond, including the following:
Empress
Veneers
Porcelain Fused to Metal
Implants
Metal-Free
All-Metal
Learn more about the dental restoration products we offer to our clients.
Setting higher standards.
Exceeding expectations.
Check Out Our Work!
Shaunn's Dental Lab is here to transform your smile by providing you with excellent service and carefully crafted quality products that last. With over 35 years of experience in the field of Dental Restoration, we are more than qualified to bring to reality your enhanced smile and improved overall dental health through the use of the best dental technology in our lab.
Have a question about

Dental Restoration

?